Islands of hidden treasures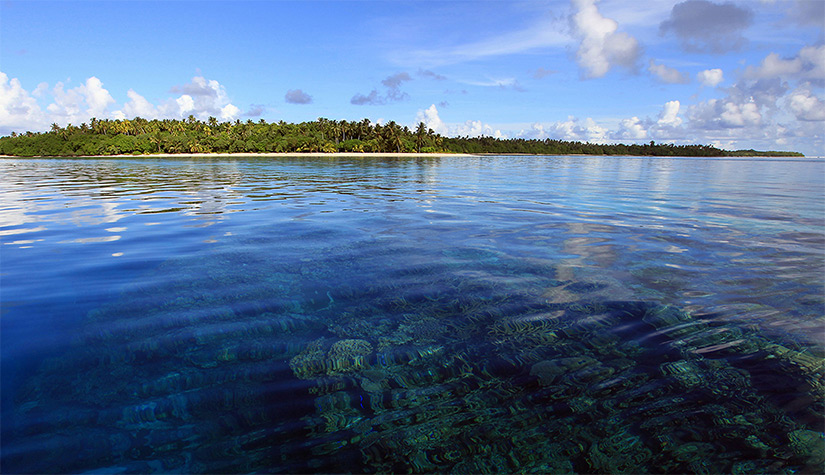 Located over 16,000 kilometres from France, Wallis & Futuna are islands of immense natural beauty, far from the beaten track and still (mostly) undiscovered by tourists. According to official figures, around a hundred tourists visit Wallis & Futuna every year... And boats docking each year can be counted on the fingers of one hand! The situation is very different to that of other Pacific Ocean islands where several cruise ships stop off daily so passengers can spend a few hours visiting a city or site. Wallis & Futuna are islands out of time with a fascinating, traditional Polynesian culture still vibrantly alive today. A secluded paradise of smiling, hospitable islanders adorned with flower garlands.
With their complex history (links with Tonga and Samoa, conversion by Catholic missionaries, links with France, occupation by US army forces, assimilation into the French Republic), Wallisians and Futunans boast a rich cultural heritage they are delighted to share with visitors.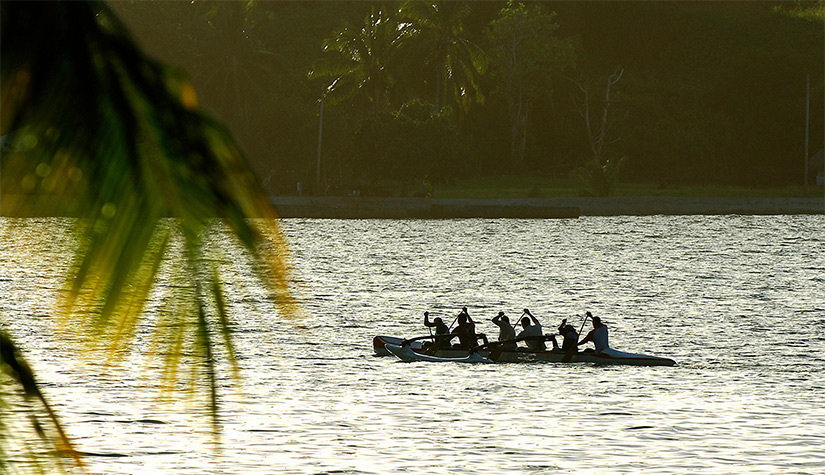 If you'd like more information, please check out the Wallis & Futuna Tourism Office website.
History, tradition and luxuriant natural beauty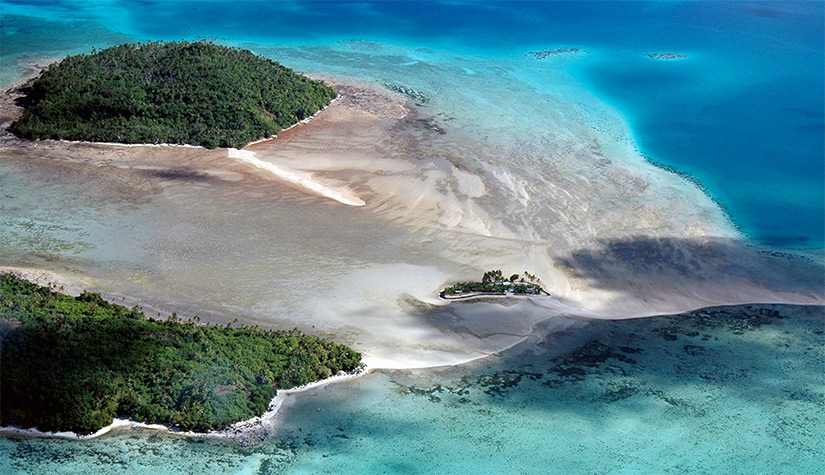 Wallis is blessed with one the world's loveliest lagoons whose pristine beauty remains untouched by pressure from tourism. The lagoon is dotted with 13 fairytale islets, all completely uninhabited. It takes barely ten minutes to reach a world of sublime, secluded beaches and shimmering azure waters, where you can snorkel in an underwater wonderland.
This is a watersports paradise. Wallis is famed as one of world's top kitesurfing spots, with other attractions including sea kayaking, SUP boarding, scuba diving, va'a outrigger canoes and, of course, every possible kind of fishing! Futuna is also a dream playground for all watersports, and a spot beloved by surfing fans.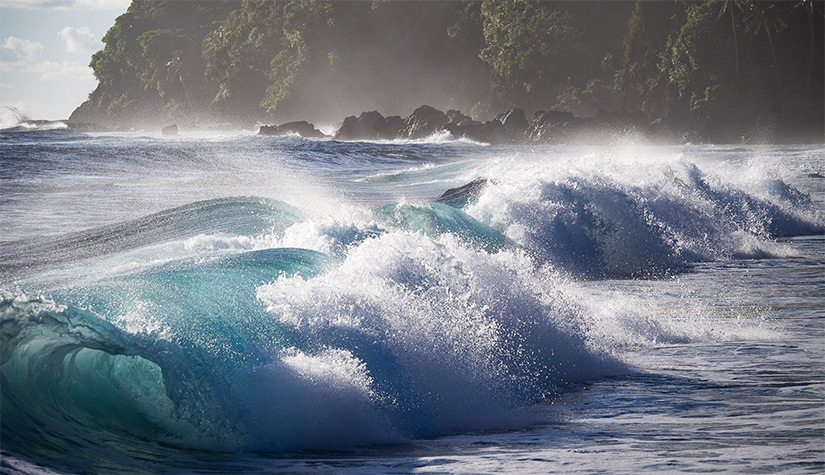 Wallis boasts a number of remarkable historic and archaeological sites, including one of the best preserved Tongan Fortresses in the Pacific Region, and the site of a great battle, where the blood of warriors dyed the swamp water red.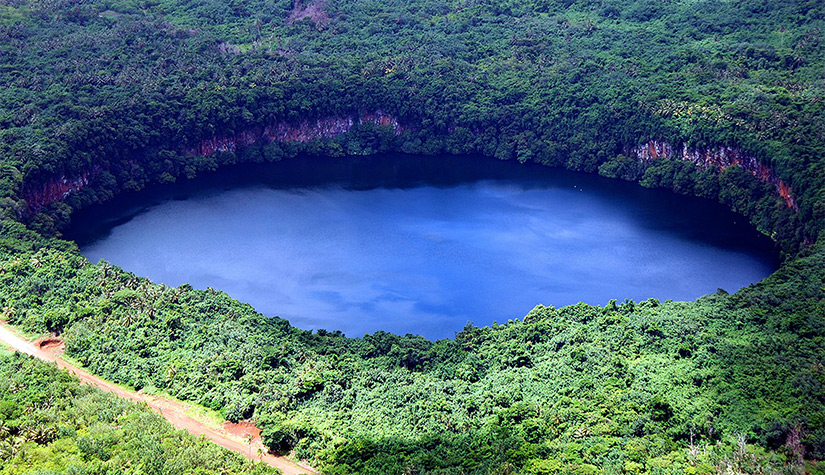 The US Occupation Museum houses collections focussing on World War II in Wallis, and the infrastructure and artifacts bearing witness to the period.
Lake Lalolalo, one of the largest inland crater lakes in the Pacific Region, is another unique beauty spot in Wallis. Visitors can now view the whole lake from a specially built lookout.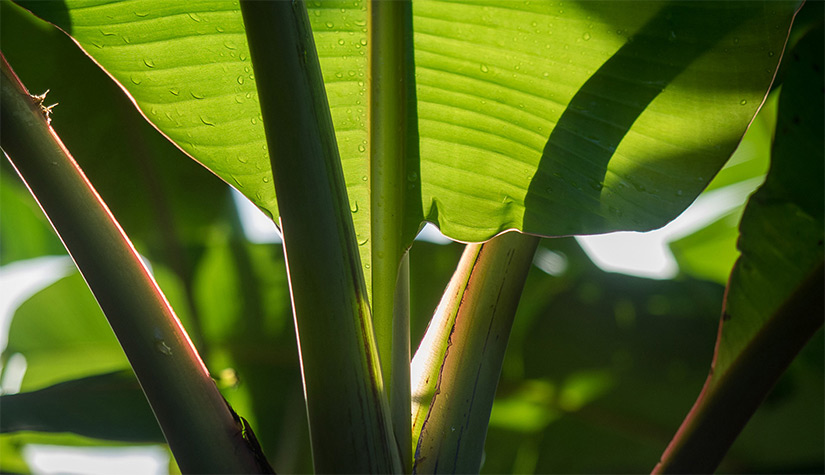 In Futuna, with the island's mountainous terrain and many rivers, water taro crops are cultivated on terraces which offer visitors superb views over magnificent scenery. Experienced hikers, accompanied by a guide, can tackle the climb up Mount Puke, through lush tropical vegetation and enchanting landscapes. An unforgettable experience.
Opposite the kingdom of Alo, the island of Alofi, with a population of one (and several dogs!), boasts scenery of sublime glory, virgin beaches, mountains and a fabulous underwater world. Plans are under way to have Alofi listed as a UNESCO World Heritage Site. The TARA PACIFIC expedition found one the world's best preserved coral reefs in Futuna.
There are several fascinating cultural and archaeological sites to visit in Futuna: the cannibal oven at Lafua, Loka Cave, which can be reached in a few hours' walk on Alofi and, of course, impressive Poi Basilica, erected on the site of the martyrdom of Saint Peter Chanel, Oceania's only canonised martyr. Every year on 28 April, worshippers from all over the Pacific Region flock here to pay tribute to him.
Finally, the people of both Wallis and Futuna are devout Catholics and the islands boast a large number of magnificent churches.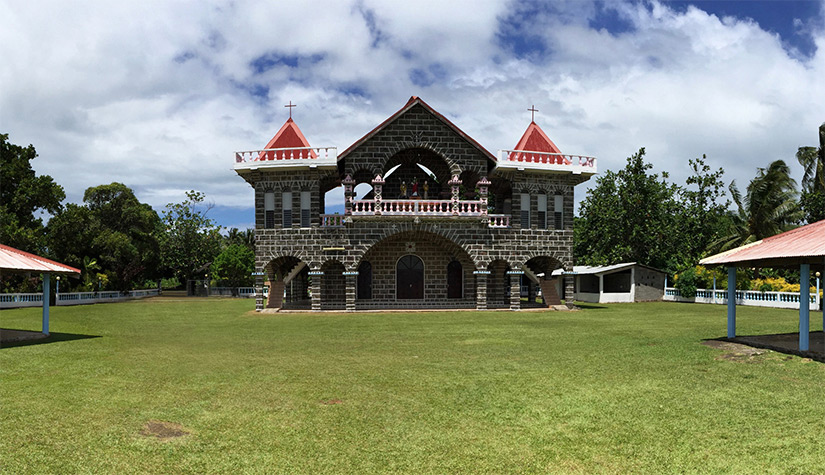 Mata Utu Cathedral in Wallis is particularly impressive, with its lava rock and coral walls and richly decorated interior. In Futuna, the faithful make a yearly pilgrimage to Poi and worship in the island's many colourful, beautifully cared for churches, filled with fresh floral tributes.
Whichever church you choose, you'll be surrounded by joyful islanders come to dance, sing and make offerings, dressed in traditional costumes and wearing flower garlands.
A wide range of accommodation
Like Wallis & Futuna itself, the accommodation on offer is small and friendly. Grandiose 5-star hotels and noisy resorts are unknown and there are no crowds of tourists to spoil the lagoon. Wallis offers visitors small but comfortable family-run hotels and guesthouses. There is a catering service at every hotel and the island also boasts restaurants and snack bars. Futuna has two hotels and a few small homestay holiday lets.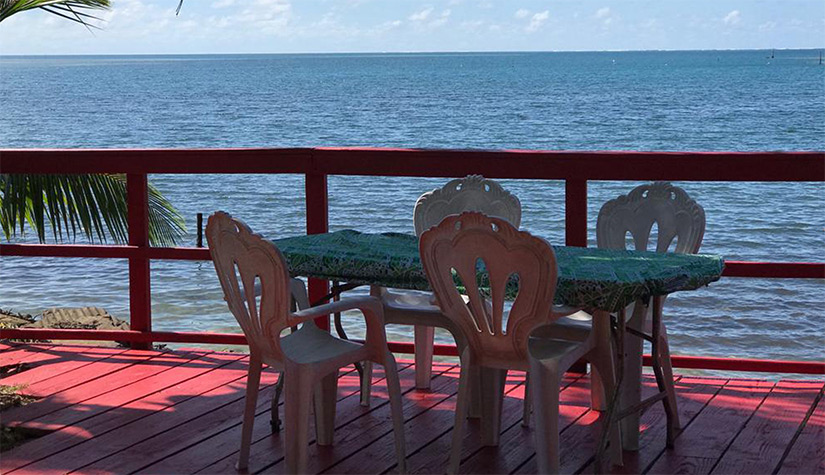 Getting to Wallis & Futuna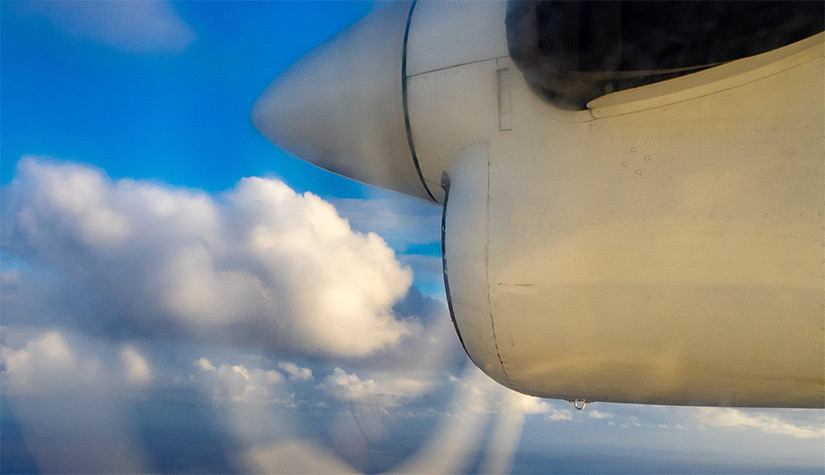 Aircalin (Air Calédonie International) is the only airline operating flights to the islands.
There a 3 flights a week to Wallis, on Mondays, Wednesdays and Saturdays. Flight time is 3 hours.
Some flights make a brief stop-off in Nandi (Fiji) located just 1 hour 15 mins from Wallis, so you can also fly to Wallis via Nandi.
The shortest flight route from France is via Tokyo or Seoul, then Noumea.
There are 3 inter-island flights between Wallis and Futuna a week. Flight time is one hour. Extra flights are laid on depending on return flight schedules and periods (back to school, Saint Peter Chanel feast day...). Twin Otter planes seating around ten passengers are used for inter-island flights. Seats cannot be booked online so you need to go to a local travel agency.
There is currently no scheduled passenger boat service between Wallis and Futuna, nor between the islands and neighbouring countries. A handful of cruise ships stop at Wallis & Futuna every year, including ships operated by Ponant cruise line, which is registered in Wallis & Futuna.
Pleasure boaters can cast anchor in Wallis and Futuna, in Gahi Bay or in front of Alofi. For the sailors, Wallis and Futuna will undoubtedly constitute a highlight of their South Pacific grand tour, before setting sails to Fiji, Samoa or Tonga.
What to do and see
A week's stay in Wallis: spend a day exploring the ancient sites of Utuleve and Atuvalu, amazing Lake Lalolalo and the impressive Tongan Fortress.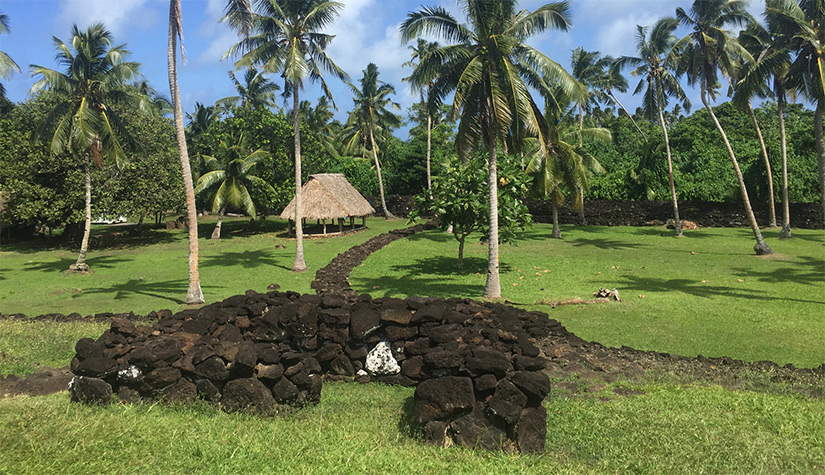 On your second day, head for the southern islets, from Faioa to Ilôt de la Passe via Saint Christophe headland... Take time for a spot of leisurely line fishing, or try your hand at cast or harpoon fishing and take back your catch to enjoy for dinner!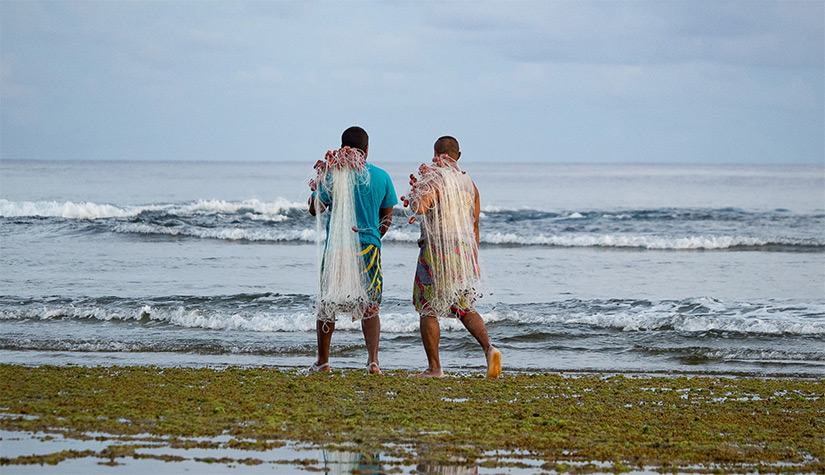 On your third day, head for the sky before setting off to explore the northern islets.
At Hihifo airport, you can take a microlight flight over Wallis and its lagoon, a shimmering vision of azure and emerald. Magic! After that, hop aboard a boat and head for the northern islets to dive amongst the glorious underwater landscapes and climb to the top of the huge Tanoa rock outcrop. Learn how to make and cook with a traditional Umu oven... End your day in style, dining at one of the island's excellent restaurants, showcasing sumptuous local specialities... fish, shellfish, lobster, just take your pick!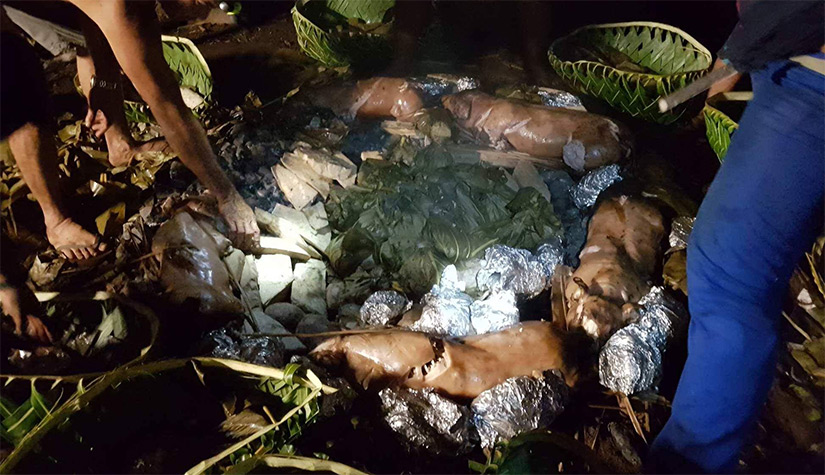 If you schedule your stay to coincide with a traditional public holiday, Bastille Day on 14 July or the Territory's national holiday on 29 July, you'll be able to join in the kava ceremony, the katoaga, enjoy traditional dances and songs and, of course, take part in a celebratory mass. Songs, intricately decorated costumes and colourful flower garlands... A joyous, moving and unforgettable experience. The Wallisians, an island nation of builders, are proud of their wonderful churches. Each has a distinctive design and history reflecting the villages which built them.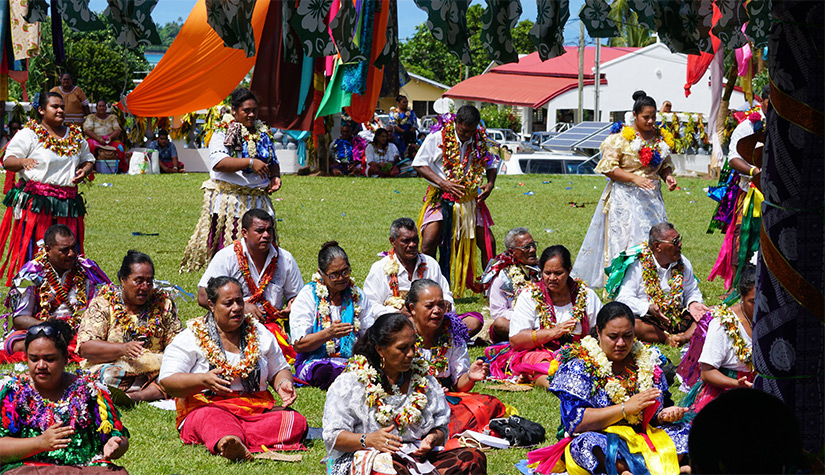 Why not spend a day learning the secrets of making traditional tapa barkcloth and woven mats? Perfect souvenirs to take home. The talented craftswomen are always delighted to share their skills and knowledge, to explain how they make their garlands and costumes and the meaning they have as part of a precious oral tradition. A visit to the US Occupation Museum is a must, providing fascinating insight into this significant period of Wallisian history. And what better way of ending your day than an evening out dancing to local hits and learning the traditional Soamako dance?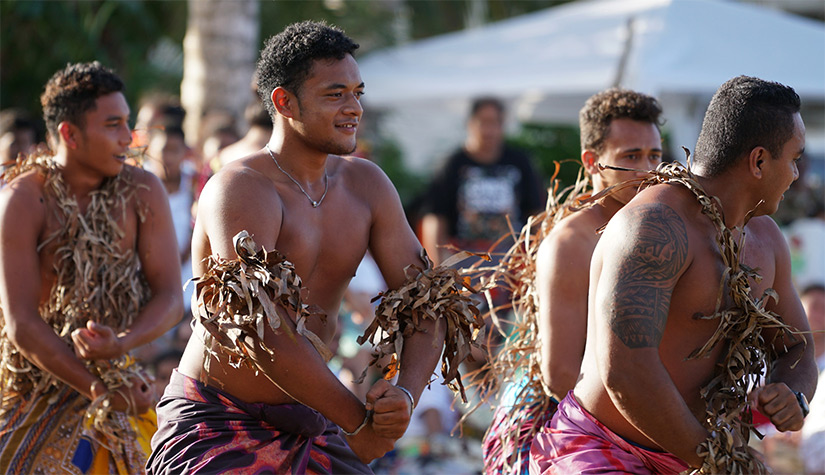 If you have enough time, you can spend a night on an islet. You don't need permission, there are thatched farés on the islets where you can camp out with a tent or a mosquito net.
A night on a fairytale islet, a sanctuary of serenity, bathed by the light of the full moon and lulled to sleep by the sound of the waves on the coral reef... Pure bliss.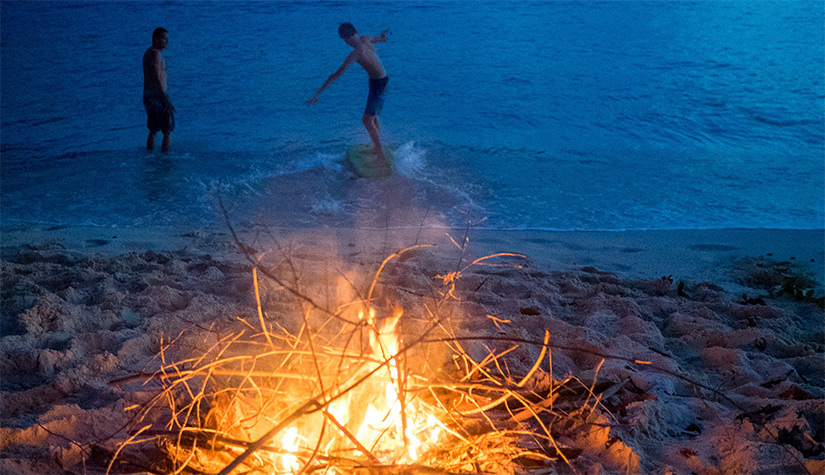 A few days' stay in Futuna: spend a day exploring the island, from Point Vele to Point Fatua. Futuna has no lagoon so you're surrounded by the Pacific Ocean, with breathtaking beaches perfect for a refreshing dip... but do take care, this is the real sea!
Take a stroll alongside one of the island's rivers and you'll see the impressive water taro fields perched high on terraces, rather like rice fields in Asia.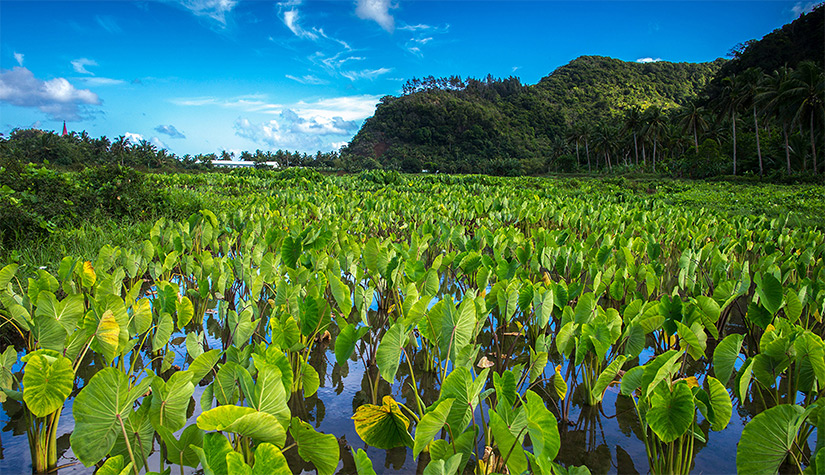 You can spend a day tackling the climb to the summit of Mount Puke, 514 metres above sea level. It's a good idea to start early to avoid the hottest part of the day. The climb will take you through Futuna's varied landscapes and give you a fresh view of the island.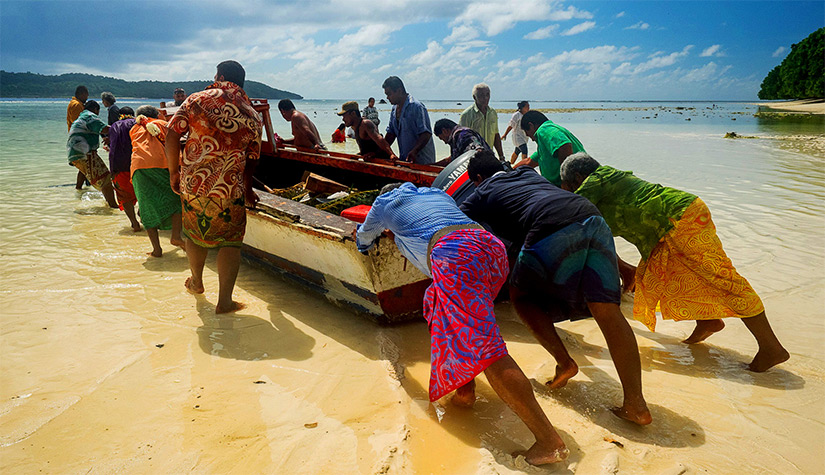 Why not spend a day exploring the sublime and untouched island of Alofi? You can get there in just a few minutes from Vélé jetty in the south of Futuna. If you'd like a challenge, you can venture off on the trail to Loka Cave, accompanied by a guide. It's worth the effort, a magnificent place of pilgrimage in an imposing natural setting, beaten by the waves.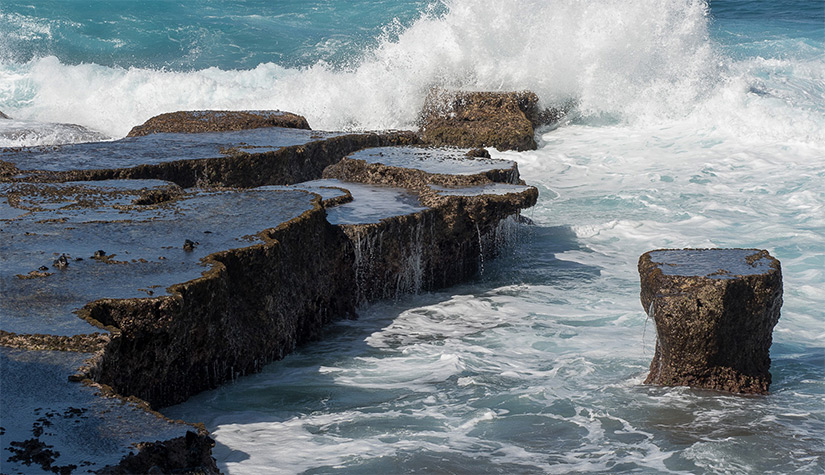 You can spend another day exploring Futuna's fascinating historic sites... the cannibal oven, Anakele, site of the ancient tomb of King Fakavelikele and Poi Basilica, before sampling the island's delicious cuisine and luscious dessert dishes.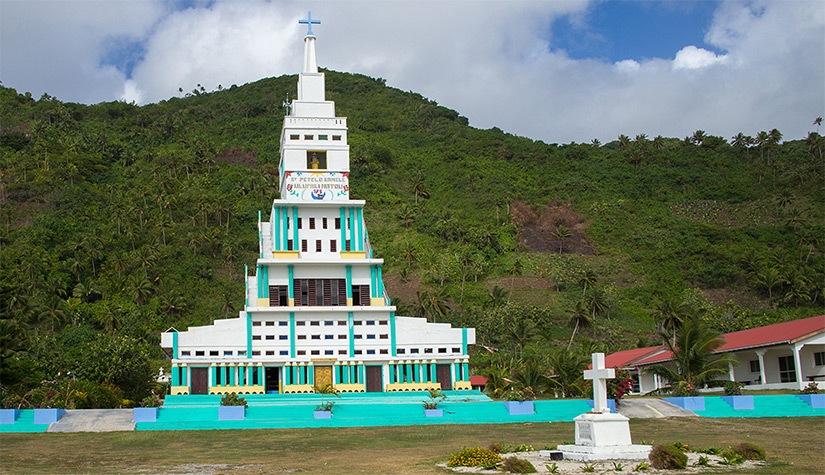 Please feel free to get in touch with a local guide or with the Cultural Department for advice about the best ways to explore Futuna.
But the most important thing to remember is to take it nice and easy... Nothing could be more magical than the gentle warmth of the setting sun, when the village men meet at dusk to hold their tauasu, talking things over and drinking kava, an ancient ritual held in each village and a precious repository of tales and legends.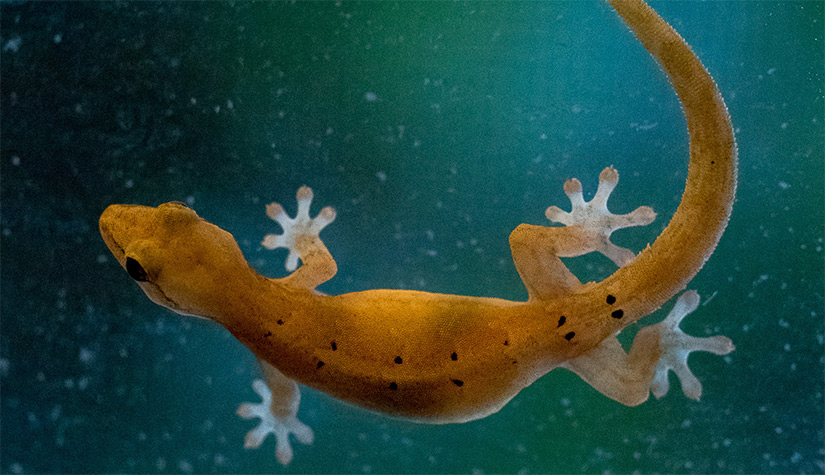 What to bring back
Traditional arts and crafts go back to time immemorial in both Wallis and Futuna, with traditions specific to each island.
Ideal gifts and souvenirs to take home include tanoas (kava bowls), miniature spears or sculptures and items woven from palm or pandanus leaves, such as fans, bags and mats. You will also bring back Tamanu oil, prized for its unique virtues, coconut oil with scents of tiaré and pandanus, and why not, our traditional fragrance, the Tui Tui !
Or why not have a traditional costume or kolufato made for you, hand-dyed and made to measure?
When you leave, you'll be carrying barkcloth bags or passport covers, wearing a necklace of Pacific Ocean shells around your neck... and taking home memories to treasure forever!